Tespo Vitamins® Clear Energy* Stick Packs
1 serving of Clear Energy* provides you with 100 mg of caffeine to take on the day! Plus, it's packed with vitamins like B12, Niacin, and B6 that play a role in positively affecting mood.*

We've also added FloraGLO® and OptiSHARP® which have been clinically proven to reduce eye fatigue and damage associated with blue light.*
---
30-Day Happiness Guarantee
Secure Payment Processing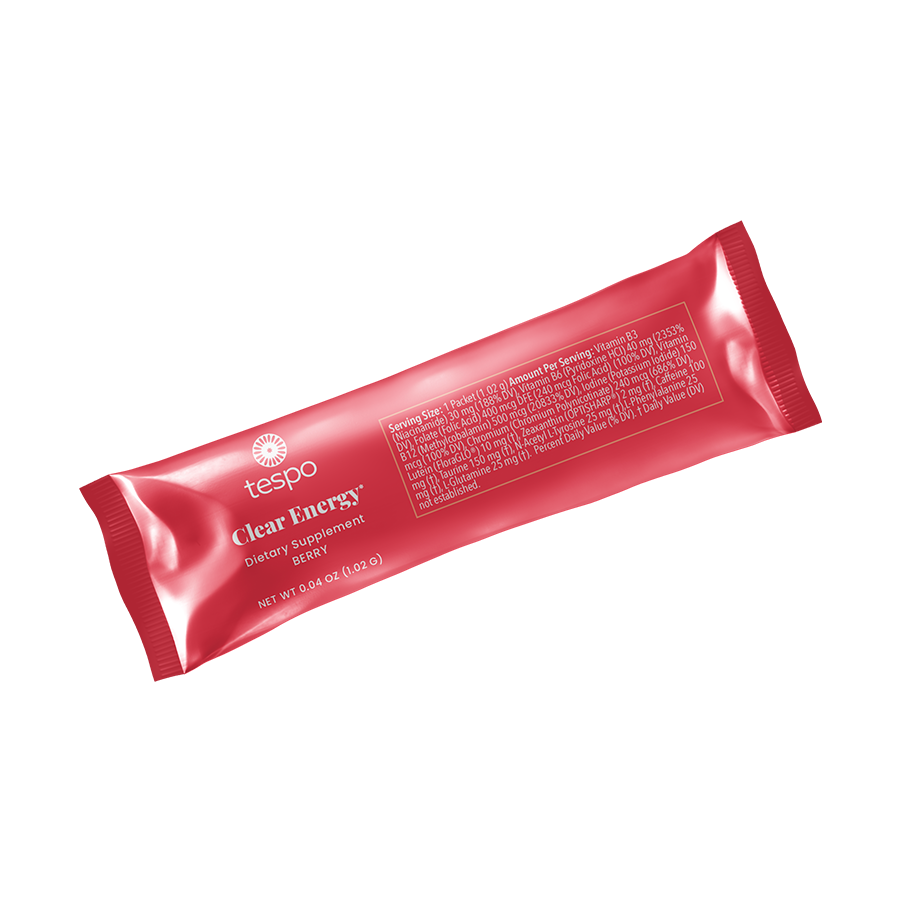 No GMOs, Binders, Fillers, or Sugar
13 Nutrients in Every Dose
What's Included?

• 6 Clear Energy* Stick Packs + Tespo Health® Go-Bottle

-or-

• 14 Clear Energy* Stick Packs
Power & Productivity

Whether you're heading to the office or wrangling the kids, Clear Energy* gives you the support you need to truly take on the day!

A Splash of Energy

Clear Energy* contains 100 mg of caffeine in one serving! That's more than a cup of coffee!¹

Brain Boost

Vitamin B6 and B12 may improve mood and boost brain function.*

Bye-Bye Blue Light

OPTISHARP® & FloraGLO® team up to fight blue light damage and help enhance your eyesight.*
¹Based on the
USDA.gov
nutrient database value for coffee, brewed.
"I'm not a coffee drinker, so for me having a little bit of caffeine with my vitamins - it helps A LOT. I guess how some people are with don't talk to me before I have my coffee in the morning - I'm the same way - don't talk to me before I've had my vitamins!"
Don't worry, be happy - and healthy! Smile Bariatric® offers a 30-day Happiness Guarantee.
Always Free Shipping
All orders ship FREE and are delivered within 7-10 business days.
Happiness Guarantee
Try our amazing system totally risk-free for 30 days with our Happiness Guarantee!